BCI Appliance
Tomasz Spustek (University of Warsaw, Faculty of Physics, ul. Hoża 69, 00-681 Warszawa, Poland), Mateusz Kruszyński (University of Warsaw, Faculty of Psychology, ul. Stawki 5/7, 00-183 Warszawa, Poland), Dawid Laszuk (University of Warsaw, Faculty of Physics, ul. Hoża 69, 00-681 Warszawa, Poland), Piotr Milanowski (University of Warsaw, Faculty of Physics, ul. Hoża 69, 00-681 Warszawa, Poland), Maciej Łabęcki (University of Warsaw, Faculty of Physics, ul. Hoża 69, 00-681 Warszawa, Poland), Karol Augustin (University of Warsaw, Faculty of Physics, ul. Hoża 69, 00-681 Warszawa, Poland), Anna Duszyk (University of Social Sciences and Humanities, ul. Chodakowska 19/31, 03-815 Warszawa, Poland), Rafał Kuś (University of Warsaw, Faculty of Physics, ul. Hoża 69, 00-681 Warszawa, Poland), Jarosław Żygierewicz (University of Warsaw, Faculty of Physics, ul. Hoża 69, 00-681 Warszawa, Poland), Piotr Durka (University of Warsaw, Faculty of Physics, ul. Hoża 69, 00-681 Warszawa, Poland)
Brain Computer-Interface (BCI) is a system that allows communication through direct measures of neural activity of the brain without muscle involvement. Such systems appear to be the only method of communication for people with severe neuromuscular disorders. There has been rapid development of BCI-systems for the last twenty years, but mostly in respect to accuracy and bit rate, rather than user convenience and ease of use. BCI Appliance, pioneering user-centered design of BCI systems, has been developped since 2009 at the University of Warsaw.
The current prototype is a compact, tablet sized box with on/off button, which connects wirelessly to domotic and EEG acquisition devices. Presented hardware implements a unique design providing dynamic menus and stable delivery of SSVEP stimuli. The generation of stimuli is based upon an array of LEDs backlighting an LCD screen, where arbitrary symbols can be rendered within the designated fields. Each LED is independently driven by a micro-controller, which enables a precise control of its flickering frequency. The same system of fields can be used to deliver stimuli for the P300 based BCI.
Software controlling the Appliance is based upon the OpenBCI framewok, developped at the University of Warsaw and released on terms of the GPL (
http://openbci.pl
). While the framework is multisystem and multilanguage, it is developped mostly in GNU/Linux which allows for a lightweight implementation of "Just Enough Operating System". Using the flexible structure and centralized data flow of the OpenBCI, we implemented universal user interface, which can be operated with SSVEP or P300 BCI, as well as other assistive technologies like switches and eyetrackers, with the possibility of unassisted switching between modalities by the user. It is beneficial for these users whose abilities degrade with time or those who would like to switch between the paradigms to reduce fatigue.
Calibration procedures are fully automated, thus there is no need for manual fine-tuning of the parameters. This is due to advanced signal processing for feature extraction like Blind Source Separation, Canonical Correlation Analysis and classifiers based on machine learning algorithms. In this sense the software minimizes the need for a highly train personnel assisting the end-user to operate the Appliance.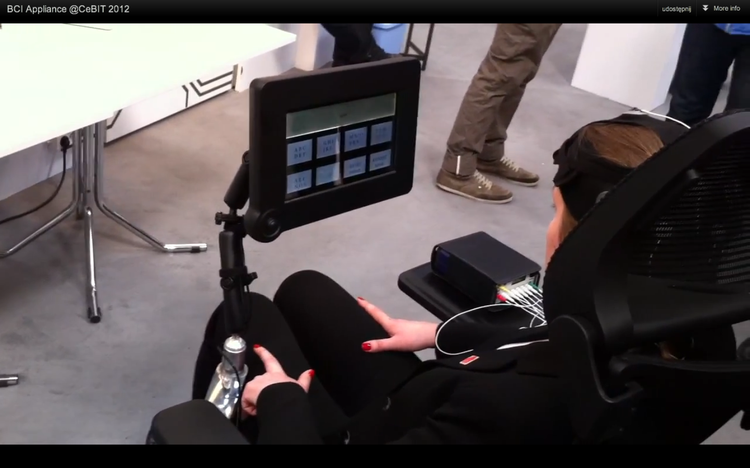 BCI Appliance presented at CeBit 2012.
Preferred presentation format
:
Demo
Why demo
:
This demo has been presented during CeBiT 2012 - it was fairly popular among the audiance, because visitors could test system themselves.
Topic
:
Brain machine interface