COINS (Collaborative Informatics Neuroimaging Suite): Give, Get, Collect
Margaret King (The Mind Research Network), William Courtney (The Mind Research Network), Jessica Turner (The Mind Research Network), Runtang Wang (The Mind Research Network), Dylan Wood (The Mind Research Network), Vince Calhoun (The Mind Research Network)
Neuroimaging research produces vast amounts of data. This data needs to be well organized, collected efficiently and, if desired, prepared for sharing. The Collaborative Informatics Neuroimaging Suite (COINS) offers tools to: Give - share existing data with other researchers, Get - acquire data from other researchers, and Collect - manage studies from beginning to end. COINS currently manages more than 400 studies. It stores over 232,000 assessments and 23,000 scans collected from 16,000 subjects at the Mind Research Network, the Nathan Kline Institute, University of Colorado – Boulder, the Olin Neuropsychiatry Research Center, and other sites.

Give - Legacy clinical assessment data is imported into COINS' Assessment Manager through csv files. Legacy imaging data is uploaded to a restricted file system and COINS through a DICOM receiver.

Get - All data in the system is made available for download. The Data Exchange is an interface for investigators to browse, request and share data. The Data Catalog is available for imaging data and clinical assessments. This tool gives the user an idea of the quantity and types of data that have been collected from participating investigators. The Data Exchange also tracks data requests and keeps an inventory of data that has already been shared between users.

Collect - COINS has tools to make study management and data collection easier and more efficient. MICIS (Medical Imaging Computer Information System) is the PostgreSQL-based web application that manages participant enrollment, scan (MEG, EEG, MRI) data and annotation, behavioral data, radiology review reports, and scan billing. An automated DICOM receiver collects, archives, and imports imaging data. Assessment Manager (ASMT) collects assessment data through several different data entry options including; self assessment, single entry and double entry. The Query Builder supports secure ad-hoc querying of scan, demographic and assessment data. Study portals serve as a collaboratory for monitoring enrollment and data entry progress, document exchange, etc. My Security controls account creation for the MICIS, ASMT, Query Builder and study portals and manages user access using role-based granularity. The COINS user interface is designed to present research information in an efficient way that also does not expose PHI. Collected data is linked to each subject via a randomized unique research identifier, which is connected to encrypted subject identification data.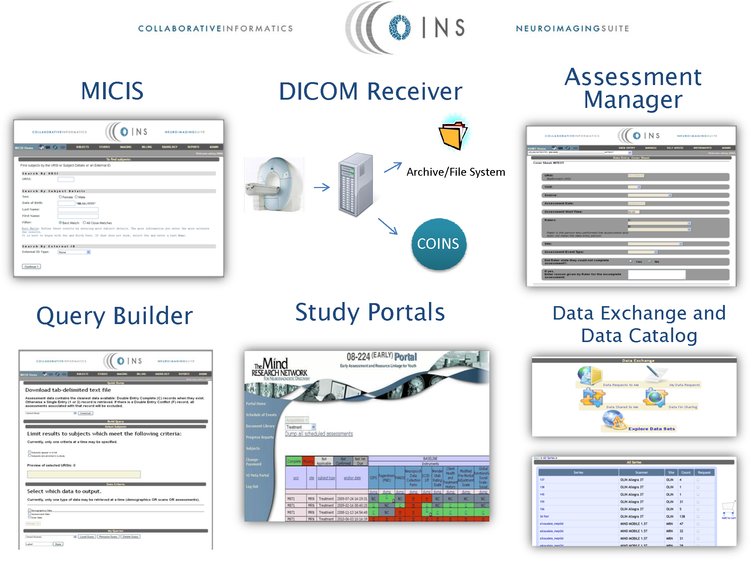 COINS Tools: MICIS - Participant enrollment and management, MRI imaging data import, Scan annotation and behavioral data management, Radiology review event reports, Scan time billing. DICOM Receiver - Automates image archiving to file system and storage of meta-data to MICIS. Assessment Manager - Single and double entry as well as self assessment. Query Builder - Secure, ad-hoc querying of single and cross-site studies for assessments, scans and demographics. Study Portals - Progress reports for subject tracking, shareable documents (study measures, meeting notes, etc.). Data Exchange with Data Catalog - Browse, request and share data, available for imaging data and clinical assessments, tracks data requests and keeps an inventory of data.
Preferred presentation format
:
Poster
Topic
:
General neuroinformatics